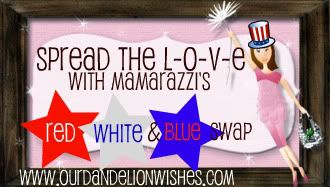 Whoo-hoo! (those of you who try to leave comments for know that I say this far too much...)
I am so pumped to get in before the swap closes - I missed the last one and was in total envy of all my fellow bloggers posting what they sent and received in the mail!
Everyone loves getting a surprise to open, right?
Well, unless it's a card that says you're gonna be a parent when you kinda sorta figured that was long past (which is actually how I told Mr. Daddy - who almost fainted - instead of
leaving some kind of maternity tummy control panel out for him to see
;)
Yes, I'm sure the revenge saga will continue my friends, no doubt. This mysterious silence from Mr. Daddy is rather terrifying and I'm certain the blog will be hijacked soon. Pray that I get into *no* blogworthy photos this weekend!
Back to the excitement... way cool to finally catch up with Mamarazzi's swap! See you there!