Ahh, free therapy time - courtesy of KMama and The Daily Dribbles! Head on over and get your fill of things we're grateful for this week!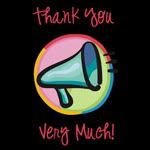 To the lovely flu bug that decided to take up residence in our household for the SECOND time this young winter... Thank You Very Much. I truly enjoyed spending two nights without sleep and without any apparent control over my body temperature. For all the achy joints and nausea, Thank You Very Much.
~
And to the nasty head cold bug that ALSO found its way back here... Thank You Very Much for the snot factory that overtaken my son and prompted him to begin wiping his mess on any and all articles of my clothing. Thanks as well for the chapped lips right before picture day. And for timing your arrival along with my flu bug... Thank You Very Stinkin Much.
~
To the Thomas The Tank Engine millionaires... you guys realize the little train is like 70 years old, right? So stick with your 1400 episodes from the past several decades, instead of adding new characters every week. New characters that my son just begs Mommy to get on the computer and buy for him. While I am tripping over the "old" characters as I put him to bed. Yeah, Thank You Very Much.
~
To the health insurance policies that punish employees for being married, Thank You Very Much.  And the new $250 annual deductible increase was a lovely touch.
~
It's a heckuva week already – this has been great therapy!