Kmama is back! And so is her weekly free therapy, Thank You Very Much!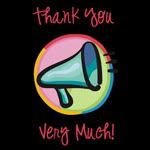 First off, y'all know that there are definitely situations that merit a whole THANK YOU VERY MUCH dedication of their own, and you just have to bite your tongue fingers and bail on posting it.  Cuz you never know who might be lurking - that you know in real life - who hasn't admitted it.  I mean, can you imagine if our coworkers read our TST  posts?  They'd take Mr. Daddy's tools away and purposely lock me outside…
(And I'm not talking about you guys SRJR – I know you laugh at all the goofy stories you were there for, but are stinkers about leaving zero comments ;)
Let's just say there was a bit of Christmas drama that completely did not need to happen.  And in the middle of a celebration of the Greatest Gift, I was so dumbfounded by selfishness… that I admit to popping off a singular uncharacteristic retort to the rudeness.  Thankfully it was not a blood relative of ours, otherwise I would have asked them to step outside for a grande battement demonstration (translation – a ballet kick to their unkind butt).
Now that I've left you totally perplexed by lack of details, I'll say that it feels almost as good as saying a Thank You Very Much to the situation and now I can pretend it's resolved, right? :)
~
To whomever decided to UNFOLLOW (yes, the word deserves all caps) us over Christmas, Thank You Very Much!  Seriously???  How did you even have time to blog hop over the holidays, much less to give us that lump of coal?  I am sorry we posted: too much/too little/too many crazy stories/too much information.
And to the THREE NEW FOLLOWERS … mwah!  love love!  Truly Thank You Very Much!
~
To my child who was "asleep" in his bed for an hour before suddenly screaming and causing me to race across the house in a blind panic, Thank You Very Much.
To the Christmas tree that necessitated the furniture rearrangement in the living room, Thank You Very Much.
To the Unbelievably SOLID coffee table that was now placed directly in my blind panic path, Thank You Very Much.
To Mr. Daddy who made that Unbelievably SOLID piece of furniture that destroyed my kneecap, Thank You Very Much.
To the screaming child that I breathlessly limped to rescue… who calmly said, "I hafta go pee pee" to my tear-streaked face… Thank You Very Much.
(and you are so, so lucky you're cute, dude)
To the tv commercial that immediately aired as I dragged myself back to the living room…
Are you kidding me?!?  To the universe that conspired to mock my pain, Thank You Very Much.
~
Oy… I feel better.  Well, except for the bum knee, that is.  Go hang out with Kmama for more!