Howdy!  What a great way to start off the new year – with a pretty stinkin' cool follow-up to suggestions by YOU… our awesome bloggy friends.
Remember when I posted this?  Nevermind clicking over… I'll post it below for your make-fun-of-the-chick-with-the-slight-ice-cream-obsession pleasure:
Dear Ben & Jerry's ~
We've known eachother for what – ten years?  And you were especially good to me during my pregnancy… my biggest quandary was simply choosing which yumminess to bring home and treat myself to.
I had to cut back on our quality time after Itty Bit was born… we were getting a bit too chummy and you were making yourself right at home – chilling out all over the place.  I mean, I couldn't keep you off of me!
I apologize if I've caused you financial hardship by our less-frequent get-togethers.  See, I'm all about quality now – not quantity.  So I can really appreciate you when we do have our special time.
Which happened to be this past week.  Remember friend, what a stressful week I had?  A sick kid, a sick husband, a sick self?  And I just knew a bit of my old friend Chocolate Fudge Brownie would do me wonders.
Help me out here… what on earth happened?
I mean - I ate, and I ate, and I ate some more.  Which is not in and of itself that extraordinary or noteworthy.  But you see all that chewy goodness on the front of your package?  All dressed up in delicious brownies?
Where were they?
Cuz I was the bottom and there was not a single chewy brownie in that whole cup.
And somehow I feel worse.  Cuz I still had that sick kid, sick husband, sick self, and now I had a couple extra pounds of regular chocolate ice cream waving at me from my thighs.
So… a batch of fresh brownies delivered to my door would make the world right again.  I'll be watching for ya :)
Sincerely,
Ms. Brownie Fiend
~
Soo… some of y'all were feeling my pain and suggested that I forward the letter to Ben & Jerry's.
Take a wild guess.
Yup, I filled out their online form with a silly little rant and a link to the original post.  And GOLLY!  I think they're a-skeered of our wonderful bloggy friends!  Take a peek:
I heart you Darlene.  Yesiree, those are TWO coupons sent with the nice little letter!  And when I pulled out the first one and saw the holographic silver barcode on the back… I sure wanted to dance around like Charlie and his Golden Ticket.
Toldja it was so stinkin' cool!!  Now we can get back to more serious business:
Thanks Julie – did you ever think your Letters of Intent would solve a world crisis?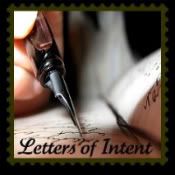 ~
And just in case y'all were still wondering if taking your complaints to the top does any good:  yes, Jones Soda came through in time, and the jewelry store replaced Mr. Daddy's wedding ring on the spot.  We must complain well?
Now excuse me, I'm off to destroy my New Year's resolutions with an obscene amount of Chocolate Fudge Brownie ice cream :)