Julie has a pretty rockin' Letter of Intent this week… thanks chica for letting us all join along for some self-serve customer service!  Sounds like our letters are getting stuff done - or as Julie so eloquently put it, "kicking butt and taking names"!  Join along and see what your rant can earn you!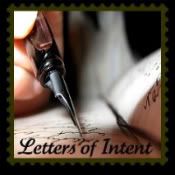 I hope she won't be too upset with me for crashing her party and having some fun with my letter this week… cuz Julie… it's all about YOU!
Dear Bloggy Rival  Competitor  Friend ~
I like you.
I really do.
But you're going DOWN sista!
I know you're funny and all that,
and people love your witty comments,
and I often feel like a totally humorless dork when I read your stuff,
and you have cute hair,
but this is fair warning…
we're going head-to-head and I'm gonna
BRING IT!
And I'm expecting y'all to pull up those ringside seats and make some noise.
With much love,
Rachel, your redneck rival
~
Oooh!  Aren't I scary?!?!
If you have no clue what I'm talking about, here's a hint (and there may or may not be some secret giveaways involved, I'm just sayin'…)
___________________________________________________________________

COMING SOON TO A BLOG NEAR YOU:

THE MOST FABULOUS, HILARIOUS, UPROARIOUS GOOD TIME YOU'VE EVER HAD IN BLOGLAND.  RACHEL AND JULIE HAVE JOINED TOGETHER TO BRING YOU BATTLE OF THE BLOGS.
STAY TUNED, YOU DO NOT WANT TO BE THE ONE LEFT OUT IN THE COLD ON THIS ONE. BESIDES, NO ONE LIKES A PARTY POOPER. DON'T BE THE ONE. DON'T BE THAT PARTY POOPER.
(If your husband just got all excited looking at the screen, that's a .30-06 and an AR-15.  And  yes I did shoot it, and  yes it was just before that picture, and yes I did dadgum burn my hand on the barrel for dadgum photo-op.  Doesn't Julie just rock hers?)