The week has flown by and it's already time to whine complain express your gratefulness with KMama's Thank You Very  Much weekly therapy.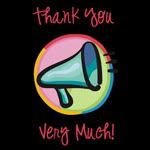 To the rude receptionist who lost it when I told her I needed to reschedule… after waiting TWENTY MINUTES past my scheduled appointment:  my time is valuable too, Thank You Very Much.
(Y'all know us peons would have had to forfeit our appointment if we were 10 minutes late, right?)
~
To the same aggressive receptionist that Mr. Daddy got on the phone when he attempted to reschedule my appointment… ain't so fun being rude to my charming husband, is it?  Thank You Very Much.
(For the record, Mr. Daddy stopped her in her tracks at the first sign of attitude… attaboy!  We know how to deal with 3-year-old behavior… never underestimate the power of a toddler's parent!)
~
And to the lovely receptionist again, who went out of her way to whine to ANOTHER DEPARTMENT that I'd missed picking up my hearing-aid part by refusing to wait the week before, Thank You Very Much.  Since it had nothing to do with my appointment with ANOTHER DEPARTMENT – wouldn't that be considered illegal to share my medical information?  (Which ironically, I realize I am now sharing with the entire internet).
~
To (you guessed it) the charismatic receptionist who decided to do this tattling to my nurse at the front desk while I was in the waiting room… why yes, I DO LIPREAD, Thank You Very Much.
~
To the nurse who apparently was friends with Receptionist Of The Year – ARE YOU KIDDING ME?  Getting mad at me because I don't remember the exact date of my last hearing test is soooo not important in the grand scheme of things (and not relevant to that appointment anyway), Thank You Very Much.
Please remember that YOU have all my medical records, and after being profoundly deaf for three decades, I don't exactly wait with baited breath to see the results of my 429th hearing test, Thank You Very Much.
And you're welcome for the pageant smile I gave you the entire visit… I was determined to kill you with kindness after watching your exchange with the whiny receptionist.
~
(While I may seem overly whiny about this particular beloved specimen of a person – please consider the following history:
A few years ago, she went head-to-head with me and lost when I told her she was mistaken in her refusal to comply with their obligation regarding my benefits.  Her meanness left me in tears and my friend who was undergoing a very visible chemo for fourth stage lung cancer was attempting to help.  She threw her hand in our faces and yelled at us to STOP TALKING!
I related my story to customer service while crying and (long story short): the medical center CEO wrote me a sincere apology, reimbursed me with CASH, and Ms. Tyrant was sent for customer service training.  Man… maybe I oughta write a Letters of Intent tomorrow and send them a copy?)
~
Go check out KMama for more – hope y'all have less craziness to be grateful for.  Oh wait, that didn't come out right…