I seriously didn't think I'd be able to get to a Thank You Very Much post today… but it's been a doozy of a week already and I've just got waaay too much snarkiness to go to waste.
After all my whining, head on over to Kmama's for some "I hear ya" moments!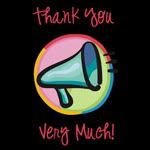 ~
In all seriousness… a great big THANK YOU VERY MUCH to everyone who joined in on Battle of the Blogs – Round One!  We had a great time – stay tuned for the results and a few words from our sponsors.  Oh wait… we don't have any sponsors?  Yeah, well – if anyone WANTS to be a sponsor, I'm sure Julie and I could be convinced to do some sumo suit wrestling for your entertainment.  Cuz we're all about our image and all, Thank You Very Much!
~
About that "image" thing… to the little PhotoShop wizard who did the pictures for the Battle of the Blogs (cough JULIE! cough), I think you were being a bit unfair, Thank You Very Much!  Love that you posted a glamorous picture of you on vacation with your croc purse.  Then added a picture of me edited to look like a tiger was biting my butt.  Not to mention the unusual placement of the (ahem) girls that made me look like a walking advertisement for PeopleofWalmart.com.  What?  You didn't think I was going to actually post the picture here, did you?  That'd be just a wee bit too much public humiliation, Thank You Very Much.
~
(SNARKINESS ahead)
To the person who believes it is their sworn duty to make my life miserable during any working hours… God'll get ya honey, Thank You Very Much.
Just because I sweetly reminded you that you failed to follow your own rules and forced staff to scramble, does not mean that you had to CREATE a new rule just for me to follow and club me over the head with it.  I already deal with ONE three-year old daily, what's your excuse?  I'm sure you'd love to know that important people who matter are aware, very aware of your behavior issues, Thank You Very Much.
(Oh Lordy friends… if I could actually tell you what was going on, you'd be all over it.  Let's just say that somebody needs a grand butt-chewing and a reality check.  Sponsors anyone?)
~
To the sister - yes, my ONLY sister - who thinks it's okay to move away (sob), are you kidding me?  Look what you'll be missing out on, Thank You Very Much!
Seriously.  Enough of this.  Come back already, k?  We'll do thai and tiramisu and get our toesies painted.  Take the kids to the park and let them get their craziness out.  Seriously, you'd be a mean mom/aunt to deprive them of it, Thank You Very Much.
(Love you very much and miss you already)
~
Gee, thanks a lot Kmama.  I think I prefer the snarky to the big ol' pity party I wound up with, LOL.
Head on over and see what everyone else is grateful for!  And don't forget to tune in soon for the Battle recap! :)