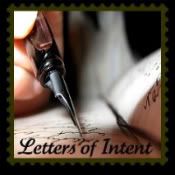 Time for Letters of Intent, courtesy of Julie at
Foursons
. As I said to
Dana
this morning – Letters of Intent is going to CHANGE THE WORLD! She's now the fourth blogger I know of who has gotten a response from a company who was
searching the internet and came across her Letter of Intent about their product.
Well, Julie and I both sent the companies letters, but seriously?!?! The best part? Maybe this will convince businesses that it is worth continuing high quality in products that we love.
Otherwise you're gonna get
Letters of Intented
and that's just no fun. (Don't you love how I just made it a verb?)
Anyway… I don't think any company is gonna call me on mine this week… because this particular breed is widespread and apparently doesn't care about appearances.
~
Dear Parents Who Shouldn't Be:
Having the ability to reproduce doesn't mean you
should
.
When you decide to have a child, you accept the responsibility of keeping that child safe to the best of your ability. Even when it impinges on your "me" time.
And especially when you decide to bring them to an adult establishment such as this:
Cuz obviously when you bring them here, it is all about YOU.
Apparently, it is
not
at all about the boy who couldn't have been older than two who followed us, asking Mr. Daddy for tokens.
~
And it is
not
at all about the three-year-old who hung out with us and played air hockey for 15 minutes without anyone checking on him.
~
It is apparently
not
at all about the crying toddler who looked up at me and wailed,
"Da-da! Da-Da!"
Cuz all of these kids had one thing in common:
There wasn't a parent or grandparent in sight.
(Tell me, not one of those pictures above shows a child old enough to be left unattended. If you disagree, I will share my story of an attempted kidnapping with you. The child was me.)
There are a million places for kids to get hurt. A million places for them to hide. And a million kids who are bickering and pushing eachother around the various motorized amusements.
I am sick at the thought of how easy it would be for someone with wrong intentions to harm one of these young ignored children.
So parents who were at Chuck E Cheese this week – please hang up the phone, quit Facebooking from your cell, step away from the fourth visit to the salad bar – and get out there to spend some quality time with your kiddo.
I'm sure they'd rather spend it with you.
Sincerely,
A Worried Mom