Friday, oh Friday… where have you been all my week?
You bring only good things – like sweet relief from work and a chance to let it all out in Julie's Letters of Intent.  Is there any better way to start the weekend?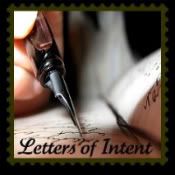 Dear Itty Bit,
I know you're a boy and all.  Which automatically grants me a ringside seat to your fantastic glee over every noise that comes out of your body, your fascination with anything motorized, and your highly successful venture to ensure contact with dirt or something sticky on an hourly basis.
What I was not prepared for, little guy, is the sudden onset of WWF displays in which you gamely take on older and bigger kids.  Somehow you think it's royally funny and giggle away while getting totally beat up.
Don't you know you could get seriously hurt?  And I thought I taught you well to walk away from any fight you couldn't win.  Besides, you aren't really supposed to fighting at all now, are you?
Waitaminute… are you winning?
That's my boy!
*Whistle* Attaboy!
What'd I tell you!
PIIIIIIIN!
(Ahem)  Fighting is not good kid.  No good.
Love,
Your Pacifist Mother
~
They were laughing their little butts off.  Though I'm not sure some of it may not have been revenge for this: