Has this been a long week or what?  I am sorely in need of some free therapy courtesy of Kmama and her Thank You Very Much session!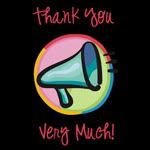 This past week has been chock full of things to remind me to be grateful when life is simply normal.  Because when it's a wee bit off kilter, it can really smack you upside the head.
Where to begin?
Oh yes, to the parents whose offspring terrorized the toddler play area and injured my son, Thank You Very Much.  If this ever happens again, this chick will not hesitate to sit on your unruly child until his screams have alerted you to the fact that you have not checked on him for two hours, Thank You Very Much.
~
To the mom who recently blogged about her Jack Russell terrier… you have officially given me puppy fever, Thank You Very Much!
To Mr. Daddy… I wouldn't have puppy fever if  you would just hurry up and cave on the one-child-maximum rule, Thank You Very Much.
~
To the same little charmer who I caught behaving perfectly at a baby shower, Thank You Very Much.  I'm glad you could entertain May-May, but maybe next time off the floor?
And when you squeezed me and looked at me with those blue/grey/green eyes and said, "I'm the sweetest thing"… I just melted into gooeyness and you ran on your merry little way, Thank You Very Much.
~
And at the same baby shower, to my Little Jo… for the loss of bladder control, Thank You Very Much!
What was so funny, you say?
So glad you asked!  When asked to write a little note for the baby's scrapbook, this is what my creative little niece came up with.  I smell a great little TST post writer, don't you?
See why this bladder challenge happened?  And why it was contagious?  Thank You Very Much.
~
To my gorgeous four-legged friend for yet another round of colic, Thank You Very Much.
You scared the snot out of me.  Next time  it would be far more preferable to get sick during daylight, k?  Or not get sick at all, yeah?  Mr. Daddy won't quit reminding me that four-wheelers don't usually cost $320 to "repair", and you don't have to worry about stepping in their "exhaust"…
(And last time your four-wheeler got stuck Dear, your little wifey had to carry our newborn across  a stream to get through.  So much better than riding a horse across, right?  Thank You Very Much :)
~
Aaaand, to my dear friend Julie who has been kicking my butt at the BOB (Battle Of the Blogs) Round Two and poking fun at me on a daily basis… Thank You Very Much.
To all of Julie's followers who would pick being invisible over being able to fly, just cuz they want to know what people are really saying about them, and because they want to rob banks: y'all are just a bunch of nosy criminals, hee hee.  (And from a chick who can lipread, sometimes it's better not to know what people are saying about you).
~
And just because Julie totally deserves this… I'll let you read our email exchange and hopefully garner some sympathy votes cuz she's just brutal, this girl!  Thank You Very Much!
(WARNING:  My mother always considered c-r-a-p to be a cuss word.  Sorry Mom, read no further)
About Julie's new blog design:
Rachel:  Umm... where are you and Chris (the pictures)? I mean, beside the obvious you and me with guns? :)
Julie:  I know.  I've got to figure that part out still.  I don't want too much crap in my sidebar.  :)
Rachel:  I am relieved to see that I still qualify as crap  LOL   :)
Julie:  I am literally LOLing right now.
Julie:  I cannot get my BOB button to link to those posts.  Can you help me please?
Julie:  Nevermind.  I FINALLY figured it out!!!  Thanks anyways.  :D
Rachel:  glad to be of help :)  (when I did absolutely nothing)
Julie:  You're awesome.
Rachel:  Don't forget... I'm awesome, and CRAP.
ROFL
~
I think we are discovering a new side of eachother.  And the fact that we both royally abuse smilies.
But that's what friends are for, right?  Thank You Very Much!
~
Now get thee over to the BOB Round Two and help a sister out!  No, not that sister!  This one!  I'm seriously hurting guys, don't let me go down in flames! :)  Thank You Very Much!