Ahoy mateys!  It's time for my beloved free therapy in which I pay tribute to all those things I'm most thankful for this week.
Join Kmama for more!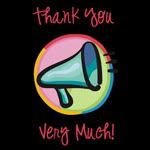 To my dear Mr. Daddy who has nearly collapsed with hysterical laughter at any mention of my near-death-by-scared-horse story – I appreciate the concern, Thank You Very Much.
For the record, if you are too skeered to put your own cute behind in the saddle, you are not allowed to mock my adventures or my tack, Thank You Very Much.
~
To the freezing weather that has not resulted in any snow, Thank You Very Much.
It breaks some kind of natural law to have it be in the 20's without any fun to show for it, Thank You Very Much.
Mr. Gore… I appreciate all your contributions to the global scientific community, Thank You Very Much.
(Yes, I am insanely jealous of all the snow y'all are getting… send some our way, k?)
~
To the child who is absolutely obsessed with the "EXCAVATOR CLIMBING THE TOWER!" video – thus hijacking my computer for repeated viewings several times daily, Thank You Very Much.
And it really does merit the all caps designation… cuz this EXCAVATOR CLIMBING THE TOWER is pretty darn amazing.
See, don't say I never gave ya anything, Thank You Very Much :)