Julie from Foursons hosts this great weekly chance to speak your mind and (often) get results.
For more Letters of Intent, find her here: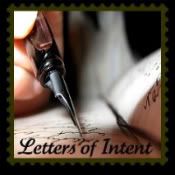 I'll be honest.
I had a cutesy post lined up.
You know… something along the lines of addressing my kid's nap strike and how I keep injuring myself in imbecilic ways.
But then I read the article (below).
And it chilled me to the core.
So this is my letter… I'm posting the text of the news article and asking you to read it.
ABCNews.com's article has more details.  Here is the Komonews.com version:
SEATTLE -- The mother of a Ballard High School student is fuming after the health center on campus helped facilitate her daughter's abortion during school hours.
The mother, whom KOMO News has chosen to identify only as "Jill," says the clinic kept the information "confidential."
When she signed a consent form, Jill figured it meant her 15 year old could go to the Ballard Teen Health Center located inside the high school for an earache, a sports physical, even birth control, but not for help terminating a pregnancy.
"She took a pregnancy test at school at the teen health center," she said. "Nowhere in this paperwork does it mention abortion or facilitating abortion."
Jill says her daughter, a pro-life advocate, was given a pass, put in a taxi and sent off to have an abortion during school hours all without her family knowing.
"We had no idea this was being facilitated on campus," said Jill. "They just told her that if she concealed it from her family, that it would be free of charge and no financial responsibility."
The Seattle School District says it doesn't run the health clinics at high schools. Swedish Medical Center runs the clinic at Ballard High and protects the students' privacy.
T.J. Cosgrove of the King County Health Department, which administers the school-based programs for the health department, says it's always best if parents are involved in their children's health care, but don't always have a say.
"At any age in the state of Washington, an individual can consent to a termination of pregnancy," he said.
But Jill says she not only didn't have a say in her daughter's abortion, but also didn't know about it.
"Makes me feel like my rights were completely stripped away."
I don't want to talk politics.
I am just unbelievably frightened at the fact that this happened – that a school allowed and encouraged it.
What on earth would they have done if this teenager began hemorrhaging?
This isn't politics at all, this is parenting.
Parents have a legal responsibility for anything their minor children do… how an they be held to it if a public school is allowed to make health decisions for a child?  Decisions that are life-threatening and life-changing.
This school is local to me.  I played against their girls' basketball teams.  This scares me to no end.
Who paid?  Well, at least one precious life did.
Signed,
Grieved and Scared
p.s.  I am confused… at my high school, you had to have a note from your parent if you showed up late.  And they'd call your parents if you didn't show up at all.  Am I missing something?