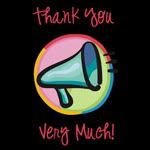 I am so sorry I missed Kmama's TYVM last week.  I'm going with the excuse below:
I try to take it one day at a time,
but sometimes several days attack me at once.
Well, I had a WEEK like that.  You'd think it would make for some excellent Thank You Very Much topics, right?
You'd think.
Except that I'm still balancing that "who reads this" and "who will get upset about it" stuff.  Once bit, twice shy.
Jumping right in, I'd like to give a hearty Thank You Very Much to the sweet husband who has blown up this cougar thing to epic proportions.  Inviting my parents to dinner last night was supposed to be a FUN thing, not an evening of dodging remarks like the below (Thank You Very Much):
Mom:  Really?  A bald eagle?  That's cool
Rach:  It flew just in front of my windshield – it was amazing!
Dad:  So… you have pelicans around here?
Rach:  UGH
~
And as if to rub it in my face… some gnarly roadkill snacker had to drag the pitbull head back out onto the road THREE DAYS LATER.  Thank You Very Much.  (Excuse me while I go get sick again).  Though to be fair, it still looks like a cougar, Thank You Very Much.
~
To Ms. Katiebug, your mama's story (A Southern Belle Trying Not To Rust) about your little adventure had me in tears – the good kind.  And made me feel a million times better that anything I've ever hit has already been dead, Thank You Very Much.
~
And enough with the roadkill (Did you read the comments on the TST post Dear?  They want to know embarrassing Mr. Daddy stories!  Yay!), I want to pass along my sincerest thanks to our local certifiable weatherman.
I don't actually blame you for the weather.
I do, however, take issue with you mentioning that little four-letter-word that sent my mind into a frenzy:
Oh yes, and after you mentioned that beautiful little word that had me dreaming of a snow day, you went and changed your mind, Thank You Very Much.
And changing your mind to RAIN was so much better.
Except that you were even wrong on that!  (And being wrong on RAIN has got to be hard to live down in the Pacific Northwest, Thank You Very Much).
I mean, the sunshine was nice, but next time – just tell us sunshine and don't have me feverishly emptying the storage closet looking for Itty Bit's snowsuit…
~
I'm so ready for Friday, how bout you?!?  Head over to Kmama's for some free therapy!