YAY! I love Thank You Very Much Day! It means a chance at some free therapy and gives hope that the weekend is coming.
Thanks Kmama! Be sure to check out her other links – just
guessing
I'm not the only thankful one this week!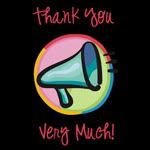 Apparently, we earned a boatload of things to be
thankful
for after daring to have a
fun weekend
…
We returned home to a lovely bill from the surgeon who
messed my wrist up TEN MONTHS AGO
, Thank You Very Much. (I say "messed up", because the physical therapist mentioned in passing that he might have gone a bit deeper and CAUSED carpal tunnel… UGH!)
Remember the anesthesiologist who threw a 2-year old fit, and the teenybopper nurse who pulled the stitches out the wrong way? Yeah, well I wrote the dude two letters about that (unanswered, by the way), sent in my co-pay, and I'm not interested in forking over another $2000… Thank You Very Much.
(image from Google)
~
To the perfect storm that conspired to take Mr. Daddy out of town for three days this week… Thank You Very Much.
I mean, the world KNOWS I can't build a fire to save myself, so this week has really tested my Girl Scout non-abilities, Thank You Very Much.
~
To the kid who decided to leave me some artwork on the bathroom cabinet… I love it honey, but next time don't use my lip liner, k? Thank You Very Much.
~
And the granddaddy of them all… to the dollar section at Target that sucked me in and left me injured within 20 seconds of entering the store, Thank You Very Much.
To the cheapo candleholder that wasn't quite attached to the metal piece it was supposed to hang from… for falling to the floor and breaking, Thank You Very Much.
To the non-existent staff that scurried out of sight as soon as that telltale CRASH was heard, Thank You Very Much.
I was still nice enough to clean up the shards so no little kid got hurt, Thank You Very Much.
And when I approached the customer service counter with the glass in one hand, and a furiously bleeding gash in the other, and asked for a bandaid… Mr. Teenaged Customer Service Dude – do NOT look like you're gonna pass out on me! I need your help! For throwing a box of kleenex, a band aid, and some wound spray at me, Thank You Very Much.
To the 3-year old who was oblivious to the drama and swiped a $1 pack of Nerf bullets and hollered in my face "OPEN OPEN OPEN!" as I stood there bleeding, Thank You Very Much.
To Mr. Teenaged Customer Service Dude, for forcing me to hold the medical stuff with my good hand, try to contain my bloody mess with the other, and CARRY a 40-pound kid into the bathroom by myself, THANK YOU VERY MUCH.
To the 40-pound sack of potatoes who suddenly saw the ungodly amount of blood being dumped into the sink and started shrieking, Thank You Very Much for alerting the rest of the store to the scene.
I'm sure they all assumed the right thing hearing, "MOMMY IS BLEEDING! MOMMY IS BLEEDING BAD!" from the women's restroom.
For continuing to narrate the story at the top of your lungs, Thank You Very Much.
MOMMY IS BLEEDING!
MOMMY HAS AN OWIE!
OPEN MY TOY PLEASE! OPEN!
OUCH!
THERE IS BLOOD ON THE SINK!
THERE IS BLOOD EVERYWHERE!
MOMMY MOMMY MOMMY MOMMY!
OPEN MY TOY PLEASE PLEASE PLEASE OPEN!
MOMMY YOU NEED A BAND AID!
(Yes honey, I have a bandaid)
MOMMY YOU ARE STILL BLEEDING
(Yes honey, it'll get better)
MOMMY OPEN MY TOY PLEASE!
Anyone else remember that I'm not exactly good with blood? Especially when your hand is cupped and it still overflows? UGH.
I spend the rest of the night with kleenex on top of the band aid cuz the sucker keeps opening, Thank You Very Much.
~
So… last night the kiddo needs help to the bathroom and I jump up to rescue him. And wouldn't you know, someone moved the couch, Thank You Very Much.
My
entire foot
gets stuck under the couch but the rest of my short-but-ungainly body is still flying forward.
I land on my elbow and, hitting my head and scraping up my stuck foot.
And yep, opened up that stinking little bleeder, Thank You Very Much.
My neck is out, I have a nice headache, very gnarly bruise on my foot, and my elbow is just fine. I need a whole body made out of elbows please.
Ms.
Julie Foursons
has advised me that I need to get myself some bubble wrap. And you know what… Mr. Daddy would totally
love
that, eh? Thank You Very Much!
(tip of the day… don't Google "wrap yourself in bubble wrap". you're welcome)