Free therapy time!  Courtesy of Kmama's Thank You Very Much!  It's been a rocky week with much to be thankful for!
Join up, you'll feel better… and might even feel a LOT better after reading everyone else's TYVM posts!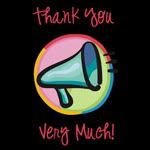 First and foremost – Thank You Very Much to whomever came up with DAYLIGHT SAVINGS TIME.  I am stinkin' exhausted because my brain apparently doesn't follow the little switcheroo and the rest of my body is rapidly approaching zombie stage from lack of sleep.
What?  I'm just not tired a whole hour earlier!  But I sure am when I have to get up a whole hour earlier!
Anyone else have a weeklong transition?!?  (Yes, the kiddo doesn't get Daylight Savings either!)
~
To my son who was has discovered LOCKS and managed to lock us both out of a bathroom that has TWO doors – within 20 seconds of entering the house, Thank You Very Much.  I should have waited until you were doing the Pee-Pee Dance and let you suffer some natural consequences for a bit before breaking out the screwdriver.
~
To that same child who went AWOL and had me wondering about another closed bathroom door… for the scene that unfolded, Thank You Very Much.
As I sneakily opened the door and reached around to ensure it wasn't in the process of being locked, I got slimed with white stuff all over the doorknob.
Honey, please don't grow up so quick, Thank You Very Much.
Mr. Daddy, PLEASE put that stuff up – two days in a row of this scene is more than this mama can handle.
~
I know y'all are already more than done with all the talk of the accident.  But to the yellow Escape that matched my beloved Ducky that approached from the opposite direction EXACTLY as I passed the scene of the accident and gave me a crazy surreal view of what I must have looked like before crushing that truck, Thank You Very Much.  That heart attack took years off my life and totally made me not want to drive the rest of the way to pick up Mr. Daddy from work.
~
In all seriousness – thank y'all very much for dropping by GunDiva's blog yesterday to not make me feel like I bombed my first guest blog :)  You guys ROCK!
~
And just because no post would be complete without an adventure… check out our more successful recent trip to Chuck E. Cheese.  No, I did not beat anyone else's children and Itty Bit and Cutie Left had a blast!  Well, Itty Bit was having a blast.  You'll see…
See, Cutie Left's look of absolute determination.  This kid doesn't mess around.
(then they switched spots and it was Itty Bit's turn)
~
Umm, Daddy?  Can I play too?
~
Daddy?
(see his poor little hand trying to reclaim his gun?)
~
DADDYYYYYYYYYYYY!
Dude, you have REAL guns.  Let the kiddos have their game, Thank You Very Much ;)