Thank you Big Mama Cass for giving us an easy –peasy post idea!  Instead of a Wordless Wednesday post (cuz y'all know I can't do wordless to save my sorry behind), use the same picture and let your friends have fun captioning it!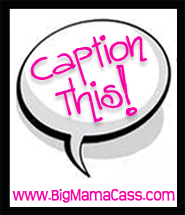 Yes, I am shamelessly joining in and encouraging y'all.  Cuz if anyone is counting, this is my FIFTH sick day at home and this upper respiratory stuff is kicking my butt.
So what's the caption here?  And yes I know, I'm already cheating by using a series of pictures instead of just one… so tell me what the story is here?
Can't wait to see what y'all come up with.  Then hop on over to Big Mama Cass' place and add your own!