Loving me a good old Friday - and a chance to write some Letters of Intent. Thanks Julie for the shout out - head on over for some more!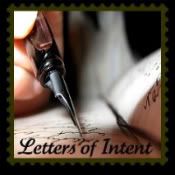 Dear Mr. Daddy ~
Please explain again why you have spent the last 20 minutes replacing batteries in the GeoTrax trains when you will spend the next 48 hours complaining about the incessant and insanely obnoxious *chugga chugga*?
Love,
Your Deaf Wife Who Doesn't Get It
~
Dear Mr. Daddy ~
Thanks for letting the Triaminic-drugged 3-year old sleep in the "big bed" for naptime yesterday.
He slept so soundly, he peed through our bedding.
A bit poetic that he was on your side, no?
Love,
The Mom Who Would Be Laughing If She Didn't Have To Do the Laundry
~
Dear Mr. Daddy ~
Man up.
You need to go to the dentist.
Love,
Your Had-A-Baby-Without-An-Epidural Wife
~
Dear Mr. Daddy ~
I am totally sticking by you through the bit of bloggy trouble you stirred up with your comment over at Julie's (WifeMomNurse).  I'm sorry someone didn't "get" your sense of humor.
I'm glad Brian (FireHubby) chimed in on his blog to back up his wife too.  No one should be ridiculed for being concerned about their children's safety.  And the Mommy instinct should never be minimized simply because someone else isn't experiencing the same thing.
And for the record – I am glad to know that you will do what it takes to defend your family on your property.
Love,
City Girl (who loves canines)
~
Dear Mr. Daddy ~
Thank you for the continued hilarity you are finding in THAT post.
You triggered that very unladylike snort when you looked at me with that poker face and said with all seriousness:
"There's a shortage of perfect bre@sts in the world, it would be a shame to waste yours".
(Fifty onceuponamiracle points if you tell me which movie that came from! :)
I know you thought it was hilarious to mention Heather Oz's comment that means some guy came to the computer to look at my b**b.
But when I got to PixieMama's comment on the follow-up post - about these:
 Michelle Pixie said...
I can't stand it! Can you have one in the mail to me like yesterday?! So dang cute!!
And I completely and totally lost it… because I thought she was talking about my b**b.
Umm yeah.
So glad you got a kick out that too Dear.
Love,
Your Wife Who Is Having Blog Picture Remorse
~
Go link up – you won't be sorry!