It's Letters of Intent – brought to you by the oft-imitated, ne'er equaled Julie of Foursons fame.  Don't be shy about linking up – didn't your momma teach you that letter writing was important? :)
(Yes Mom, I'm sorry… I know you're aghast that I abuse letter-writing so)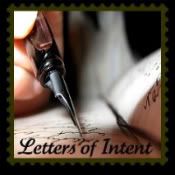 Okay, now that I'm feeling guilty about someone stumbling upon this and thinking that I have something against a certain religion – let me just say that I have friends who are Jehovah's Witness, Catholic, Baptist, Pentecostal, atheist, and everything in-between.  One of the fastest and dearest friends I ever made was a Mormon neighbor (yes Lisa, we still miss you and your family… move back soon okay?).
So this week's letter is only directed at this PERSON, rather than the religion they represent.  Cuz whatever your religion, you gotta be nice to the deaf chick, right?
~
Dear Trespassing Lady (see, toldya I was being nice) ~
Yes, I realize that I looked terrible.
Terrible is probably an understatement.
I know my hair was in a ponytail, my face was sporting zero makeup, and I was dressed in a t-shirt and sweats.
Since this was my FIFTH day stuck in the house with the mother of all upper respiratory infections, you are lucky I had showered and was wearing a bra (you're welcome).
I also realize that my son (who has supersonic hearing) raced to the door a few seconds before I could haul my aching cough syrup-drugged butt there too.
As you stood there in your mauve and teal floral glory and looked me up and down disapprovingly (taking note of the unkempt appearance, pajama wardrobe, severely bloodshot eyes), I'm sure you assumed I was some sort of alcoholic mommy whose soap operas you'd just interrupted.
But before I could say anything in defense of your obvious disgust, I was blown away by the words that came out of your mouth.
With the most unholy condescending look, you nearly knocked me over:
"I was just telling your son that he should NOT be opening the door for strangers… HMMMPF!"
Oh you dinnt.  Surely you dinnt.
Cuz lady, you do realize that you are on MY PROPERTY?
And you have just managed to insult me for somehow not beating a hyper cabin-fever-crazed 3-year old to the door when he had a good 2 second headstart in hearing you walk up the porch steps.
You do realize, as you listen to my cracked and hoarse voice that I have been dreadfully sick and living on Vicks and Sudafed and Nyquil and this might cause a chick to be less than tolerant of this type of intrusion?
While you appeared quite self-satisfied that you had sufficiently shamed me, your poor elderly co-missionary stood behind you and stared at the floor in embarrassment.
That wasn't enough.  You couldn't let it go.  I croaked, "I'm sorry, I'm sick" and reached for the door.
YOU STUCK YOUR HAND IN THE DOORWAY.
My eyes widened – did you even see?  I can tell you my 3-year old sure did… he climbed up my leg because he now knew you were playing with fire.
You leveled another stern look at me and repeated yourself.
Are you kidding me?  You had to drive on 2-1/2 acres of my property just to get to my porch.  And you're going to chew me out for my son opening his own back door?
I was trying to be kind.  I said the only thing that my very exhausted and ticked off brain could think of.
"I'm DEAF.  I didn't hear the door.  I was right behind him."
Oh LORDY.
Let the show begin.
She doesn't change her stern look at all, but orders me to WAIT.
Wait?  I'm gonna tell you again that I'm sick.  And you're gonna leave me alone before I draw your attention to the in-law's big dogs next door.
She says  v e r y    s l o w l y:  Waaaaait, Iiiiii  forrrrrrgggot.  Iiiiiii caaaaaannnnnt reeeeememmmmmmmbbberrrr.
And tries doing some gobbledigook sign language pantomime thing about losing her memory.
OH MY LORD.
I don't have time for this, I don't have patience.  And I'm sicker than heck.  And now she's talking to me like I'm someone that doesn't understand English.
Once more, "I'm sorry, I'm sick" and I go to close the door.
(take a guess)
Oh yes… she threw that hand in there again.
Cuz Lord Knows, her brand of religion is so appealing to me right now and she must, absolutely must not leave my residence without giving me some reading material to learn all about how I can become like her.
And this is the part where I very nearly just gave up and started laughing.  Because it didn't make any sense at all and all I could think was, "I CAN NOT MAKE THIS STUFF UP".
(And then I thought about y'all and just knew it was a blog post waiting to write itself).
She flips through her stack of 14 pounds of literature and finally settles on a W@tchtower magazine.  She flips through it (while I wait with flared nostrils and one eyebrow dangerously arched).
My shoulder is aching because Itty Bit is holding on like a terrified monkey.
She finally settles on the back.  She flips it over toward me and points to the picture.  It's an asian family with a rainbow in the background.
(Google)
She taps it in great satisfaction and slowly overenunciates:
Sommmmme daaaaay (tap tap), yooooooou willlllll heeeeeearrrrr agaaaaaaaain.
Some day you will hear again?!?!  What on EARTH does that have to do with the rainbow asaians?
I cover my dumfounded guffaw in a choking fit and gasp "Thank You" as I firmly close the door.
I put the little monkey down and bend to his eye level.
Honey, those are BAD people.  That was a MEAN lady.  We don't let them in the house.  Never.
Am I a horrible person for wondering if that parting cough was contagious?
Signed,
The Woman Who Will Introduce You Ladies To the B*oob-Snacking Horse Next Time
p.s. You are insanely lucky Mr. Daddy didn't greet you at the door in his tighty-whities and yell, "Do you want to party?!?!"