Time for Kmama's weekly therapy in the form of  sincere notes of gratitude.  As always, linked up to her carnival!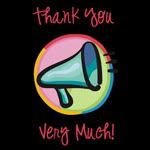 First off – to Kmama for rocking the comment section yesterday!
Yes, I know it was totally lame that I actually posted a picture of a close call between a horse's chompers and certain *ahem* part of my anatomy, Thank You Very Much.
 Kmama said...
Ow, ow, ow, ow!! You said "treats", not "teats", right? LOL
The ensuing comments had me in stitches and you definitely deserve a bloggy fist pump, Thank You Very Much!
~
As if ONE biting animal were not enough… my parents picked up a couple more over the weekend.
Thank You Very Much for giving me puppy fever!
Oh seriously?!?!
Can you stand the cuteness?
Oh my Lord?  What I am going to do when he asks for one of his own?  Thank You Very Much!
Oh, and yes – they do have sharp little toofsies, Thank You Very Much!
~
Click on Kmama's button at the top for more sincere gratitude :)