Joining up with Mama Cass for the second round of Caption This!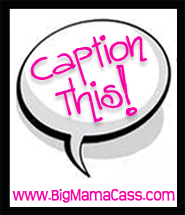 Leiah said...
"I wonder why it's called a belly button? It's not a button, it's really a hole in my...ewwww Daddy! Was that you? Ewww Ewww Ewww! Ok, yeah that will be funny. Go walk by Mommy."
Thanks for all the giggles last week… any ideas for this week?
So go link up – it's a fun and easy little game :)
And please keep Monkey in your prayers.