It is finally the end of the week (hallelujah!) and I am ready to celebrate with some Letters of Intent!  Go get hooked up at Julie's for some more get it all out goodness.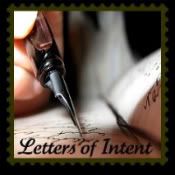 Dear Shana,
A long overdue public THANK YOU for the amazing giveaway of the Bare Escentuals foundation.  Yes, I know it was something like 3 months ago… I'm just totally behind like that.
But you were right… this stuff actually works for people with problem skin (thank you PCOS).  I am terrified of close up pictures because I am not a fan of showcasing my breakouts enhanced by my wrinkles (that combination should be illegal).
Anyhow – I'm hooked.  And I figure I'd save money using it because it's foundation and concealer and powder in one, right?  So $60 for this big set that will last me months is a good tradeoff, huh?
Thanks again,
A Grateful Friend
~
Dear Itty Bit,
Boys do not wear makeup.
Love,
Your Very Unfair Mommy
~
Dear Mr. Daddy,
I so appreciate that you're willing to watch Itty Bit so I can attend Bible Study.
I was only slightly alarmed that something so serious had occurred to warrant a text message:
HE GOT IN2 UR MAKEUP.  SORRY
Now, I'll admit that I wasn't overly freaked because I assumed he'd messed with some blush or drawn with some lipliner.
I certainly didn't expect that he had gotten into the BRAND NEW PACKAGE of expensive stuff a mere two days after it had arrived.  I mean, it kinda goes without saying that if it comes by mail,  it ranks a bit higher on the "protect from curious little boys" meter, right?
Instead, I returned from Bible Study to find that Itty Bit had meticulously shaken all the powder out of FOUR containers, merrily mixed them up all across the bathroom counter, stool, and floor.  Mixed you say?  Oh yes, mixed with blush and my brand new brushes.  Meaning none of the brushes are any good for regular powder anymore.  And wouldn't you know that the stuff that covers your pores so well, is also insidiously hard to clean up from bathroom surfaces?
But truly, what blew me away was our conversation:
Mr. Daddy:  Sorry hon.
Me:  (in disbelief) How'd he get into it?
Mr. Daddy:  He was in the bathroom.
Me:  That must have taken a long time to shake it all over.  How long was he in there?
Mr. Daddy:  15 or 20 minutes.
Me:  (screeching) FIFTEEN OR TWENTY MINUTES?!?!
Mr. Daddy:  Yeah.
Me:  What was he doing in there that long?  Why didn't you check on him?
Mr. Daddy:  I was sleeping.
(silence)
(you know, the kind that comes right before a natural disaster?)
Me:  You were sleeping?????!
Umm  yeah.
Let's just say that Momma has gone a week without her makeup, and Daddy has gone a week praying that FedEx is quick.
Love,
The Wife Who Is Slipping A No-Doz in Your Iced Tea Next Week
~
Dear Julie,
Yes, we must do a long-overdue Battle Of the Blogs (BOB) soon.
Soooo:
Would you rather go a week without makeup…
or
Would you rather make your husband wear makeup for a week?
:)
Love,
The Chick Who Will Take Pictures If #2 Wins