Made it through another week?  Got something to celebrate?  We sure do!  It's time for Fourson's Letters of Intent!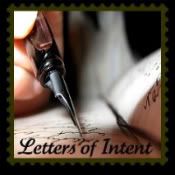 Dear CSN:
I heart you!
Let's just say that I'm a big fan of online shopping – because y'all know my horror stories of being dumb brave enough to bring my toddler into a store, only to have him squirt craft paint all over himself, knock down headless mannequins, or freak out when mommy gets cut by a broken candle holder.  (Fifty points if you find those posts and tell me you have a worse battle story!)
So when I got an email from CSN Stores, I kinda hoped it was an online coupon.
Oh Lordy Y'all – it was Christmas in May!  They are letting me review something from their site!
I headed on over and was instantly gobsmacked by the sheer number of categories to choose from.  I'm not gonna lie.  I went immediately over to the house stuff.  Because I am soooo ready to finish building our house and start putting our personal touches in.  They have everything to outfit it – from furniture to small appliances, to even some ooh-la-la recessed lighting for the dream kitchen.
Seriously… imagine this place in the evening – with a plate of brownies on the island :)
Speaking of kitchens, that's probably where I could use the most help, right?
So I picked out something super-cool to try out and can't wait to share it with you guys!
Here's what CSN has to say:
"CSN Stores LLC is a fast-growing, privately-held company offering customers the best online shopping available for home and office goods. A $200 million company, CSN is made up of more than 200 online niche shops offering a huge selection of products ranging from barstools and bedroom sets to grills, greenhouses and gaming equipment. We have items for budget-minded shoppers, luxury seekers and everyone in between."
Umm… I think the budget-minded shopper with a luxury wish list would be me :)
Take a peek over there and let me know what might be fun for a giveaway if *ahem* one should ever happen around here as we approach a certain well-rounded number of followers :)
So CSN, thanks for making my day!
Yours Truly,
The Woman Whose Husband is Begging You to Help Her in the Kitchen