Otherwise known as the bleed from your eyeballs a'la picture overload post.  Sorry.
The past few weeks have been C.R.A.Z.Y.  You'll see.
Hop along with Julie for Letters of Intent.  It's my sanity preservative!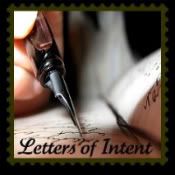 Dear Itty Bit -
For somehow managing to excel at hitting the toilet at the exact right angle to splash it right back on you… take a bow.
For then running out to the front lawn show everyone your Diego undies, I am utterly grateful.
On Mother's Day no less…
Your Loving (and speechless) Mommy
~
To Wavy ~
You're proof that a superstar talent can still come in a Nice Guy package.
Captaining your team to the playoffs in your Senior year… does it get much better?
We were already pretty darn excited – but that backwards kick was truly outrageous :)
(Umm yeah… he kicked it with his left foot while completely in midair.  He's got skilz I tell ya)
By the way… I still remember holding you at a few minutes old and even changing a stinky or two… so keep on flashing that winning smile, I got the goods on you.
Love the Chick Who Suddenly Feels Old
~
Dear Itty Bit -
I appreciate the NON-STOP screaming at Wavy's game.
I know all of the other fans did as well.
GO WAVY GOOOOOOOOOO! is acceptable when they are actually playing.
Not when the crowd is quiet because he's down with an elbow to the head.
And while we're talking about playoff game etiquette… I hate to break it to you, but the insane cheering had less to do with your undeniable cuteness, and more to do with winning in a shootout after double overtime.
Though I'm sure they all appreciated that you took a bow.
Love,
Your Momma With the Giggles
~
Dear My Four-Year Old ~
I know you loved your birthday dinner at Red Robin.  And I think they loved you there too.
But you absolutely stole the show from the poor girl dressed in that bird outfit.
When the toddler sitting behind us was being a bit of a stinker and hitting her parents… that Dad of hers had finally had enough.  He leaned down low and started:
One…
Two…
and apparently that was your cue.
Most of the restaurant in our section fell apart as you turned around and eagerly yelled:
THREEFOURFIVESIXSEVENEIGHTNINETENELEVEN!!!!
Oy.
Love,
Your Momma Who Loves Your Impeccable Timing
~
To my Dad,
Thanks a lot for putting a moratorium on any pictures of you on my blog.
Well, NYAH NYAH NYAH.
This counts for half a point.
Sincerely,
The Daughter Who Loves How Much That Boy Loves You
~
To My Sis ~
Thank you for the birthday visit.
And for bringing your girls.
(See, May-May agrees that you need to visit more often!)
And for the awesome gifts.
("Luloo" was May-May's "I Love You".  Yes she painted that!  Help me talk her into Etsy!)
And Mom's present was cool too!
I ahem, am sorry for the scene that greeted you at the park.  I know you're used to all girls…
Love,
Your Karate Sibling
~
Dear Mr. Daddy,
YOU BIG WEENIE.
'nuf said.
Love,
Your Brave Wife and Fun-Loving Kid
~
Dear Itty Bit,
You do realize the zoo admission was $36.40 for our little family?
I was thrilled that you found something that absolutely fascinated you!
Even more thrilled that you wanted to spend all day here.
But heck – it was probably your favorite birthday present, right?
I can't get over how small you are next to these big 'uns.  And all you want to do is climb in and grab the controls.
Love,
Your Momma Who Knows Better Than to Mess With What's In Your Blood
~
To This Wacky Weather,
Quit it.  It was gorgeous out.  Until the clouds started sliding by at frightening speed.
SIXTY MILES AN HOUR?
Really?
Thanks for freaking my kid out who finally realized the snapping sounds were trees breaking.
Love,
The Girl Who Needs Some Sunshine… have you SEEN my legs???
~
Dear Pups,
You boys are getting HUGE!
You're still kinda freaking Itty Bit out with the romping, but he's coming around.
See?
But I don't really think you're fooling anyone when Papa yells, "NO DIGGING IN THE GRASS", and you pop up your little head with this "who me?" look…
Love,
The Girl Who Wishes You'd Sit Still For Her Camera More Often
~
To the bloggers we get to meet tomorrow,
WHOO-HOO!  We are so stinking excited to see you!
And please forgive me in advance.  Mr. Daddy is hilarious in person, but I sadly, edit and re-edit in many attempts at funniness.  And unfortunately, there's no backspace and copy/paste functions in actual conversation.  So if I go quiet, it's probably just in awe of you because I'm feeling less-than cerebral :)
(Any guesses who we're meeting???)
Love,
One Excited Chick
~
And I promise… last one…
To the boy who burst in as I was hoping for 8.2 seconds of privacy to pee… took one look at my exasperated countenance and exclaimed,
"Oh Mommy, you are darling!"
Apparently my mini-bladder is darling, just darling.
Love,
The One Who Wonders Where You Get This Goofiness
~
Sorry… blogging has been hard to come by lately and I finally got a few seconds to write some darling words.
And ahem, please pray that I do not do anything TST-worthy in front of wifemomnurse and switch2planb!