Time for some free therapy! Join KMama for more notes of thankfulness!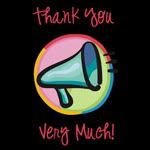 A big giant Thank You Very Much goes to….
(drumroll)
ME!
Oh yes, Little Miss Organized Me who completely goofed about the dates for our meeting up with
Wife.Mom.Nurse
and
Switch2PlanB
.
I can't complain too much about it though, since we got an unexpected date out of it and it took me three days to eat that giant cookie. (I kid, I kid).
And to Brian? Thank You Very Much for stealing my unpublished post about our ahem adventures.
Oh yes, it's absolutely worth it. Go find it

here

for some giggles.
~
A super-enthusiastic Thank You Very Much to the kiddo who is mastering the art of sneaky misbehavior.
Don't think for a moment that I didn't know you had snuck that birthday present and were attempting to pry the box open with a butter knife.
BUSTED.
~
And along those same lines, Thank You Very Much for taking advantage of my attempts to catch up on Bible Study during your bathtime. As I sat on the floor 3 feet away, you merrily emptied the contents of your bubble bath into the water.
After I'd warned you not to.
Honey, it only makes bubbles when you add it to the running water… thus my warning about wasting the stuff.
I was very impressed with your innate understanding of my priorities when you totally narc'd on yourself and told me,
"there's still a little bit left!"
How could anyone resist your follow-up?
Momma? I'm berry, berry, berry sorry.
I pwomise I will nebber nebber do it agin.
~
And Mr. Daddy?
Thank You Very Much for being totally clueless at me setting up a shot of an empty coffee cup.
For casually flipping the crumpled up napkins and the remains of Itty Bit's ice cream cone into my sweet shot:
Thank You Very Much.
It wouldn't have been half as funny if Brian hadn't seen the whole thing and cracked up too.
~
There, I feel a wee bit more grateful and ready to face the day!
And THANK YOU VERY MUCH for sticking with us during this hectic time – I'm trying to catch up with some comment love because we've missed y'all! Are you this busy too?!?!