True, I don't have permission to post this.  And I will remove it immediately if she asks me to.
But tonight my heart is heavy.
You know Pixie Mama and her beautiful family.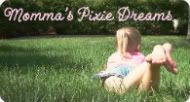 Her little Monkey is facing a battle that no 16-month old should have to.
As a mom, I know the shock and relentless ache that comes with scary news for your children.
Michelle, we are praying for you and Monkey.  Praying that God will place your lives to intersect with the perfect medical staff.  That He will give you wisdom in every decision you make.  That He will remove every single unhealthy cell from your little girl's body.  That He would give Monkey the strength to fight this.  And give you blessings to smile at every single day in the midst of this.  And especially thanking Him that you found this early.
Thankful for bloggy friends and the ability to support eachother.  Head over her way to leave her some love.
(Michelle, please let me know if this was unwelcome and I'll pull it – I just want you to know how much you are cared for!  You are a blessing)