Friday could not come fast enough this week.  It's been a rough one, so I'm sticking to fun stuff.  Well, at least I hope you find it fun too… join in for this week's Letters of Intent from Julie Foursons!  (Yes Julie, that is now your official name… unless you want me to keep referring to you as King Julien…)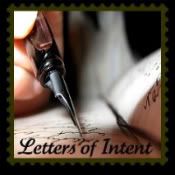 Dear Lee Jeans,
I appreciate all you do to make clothes fit us non-supermodel types.
Cool that you build in tummy panels that almost don't suffocate me.  Though I think the name of the game is "displacement"… I see that muffin top – you ain't fooling me.
But really, I when I finally get the nerve to try your new super-duper make me skinny pants; I gotta be honest:
printing this ELEVEN times around the inside of the waistband???
Just makes me think:
Ouch.  Don't rub it in.
Sincerely,
Muffin Top
~~~~~~~~~~~
Dear Fellow Garage Salers,
Sorry.
You snooze.
You lose.
Isn't it fabulous?!?!
Love,
Hangin' My Backyard
~~~~~~~~~~
Dear Hammock Makers,
Don't hammock stands come in standard sizes?
Then why would you make a replacement hammock that is TOO LONG for a regular stand?
Don't tell me it's just more stretchy.
And surely don't tell me any other possibility for why MY BUTT WAS ON THE GROUND.
Jenny Craig.  Jenny Craig.  Jenny Craig
Signed,
Miffed Muffin Top
p.s.  You're welcome for omitting the picture of that.
~~~~~~~~~~
Dear Itty Bit,
I asked if you wanted to go the air show this weekend.
Air show???  What's an air show Mommy?
An air show?  Oh honey….
(cue Youtube)
Signed,
The Mom of the Kid Who Doesn't Remember He Went To Last Year's Air Show
~
Dear Blue Angels,
You have a new addict.
Itty Bit is WILD for you!
I kinda heart you too.  In a heart-in-my-throat kind of way.
Love,
The Woman Who Is Bugging Mr. Daddy to Take the Family to the Air Show :)
And just because these may be the most amazing stunts I've ever seen… for your viewing pleasure: