It's time for our weekly free therapy!  Join Kmama for some Thank You Very Much moments :)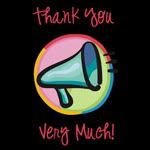 Little Jo?  Smile here.
What's in your hand?
What?
Girl, you keep that thing away from me… Thank You Very Much!
You know those things creep me out like nothing else…
And don't you dare give it to…
GAH!
Those things have VENOM… Thank You Very Much!
Get that out of my kiddo's hand and over to the hungry chickens, Thank You Very Much!

Oh, I see now… you're just gonna pretend that I'm being a big baby about this, eh?
Well, you didn't grow up in rattler country, Thank You Very Much.
Signed,
The Chick Who Doesn't Care If You Call Her A Big Baby… (I'm perfectly comfortable from this tree branch)
p.s.
(and a quick peek at what my aunt did with a rattler just this week… you've been warned)
THANK YOU VERY MUCH!