Just a little business first:  my mother actually emailed me (you have to know her to know how significant that is :) to ask me to fix a couple items from yesterday's post.
Apparently I should have double-checked the family legend before posting about Uncle Caesar's little sleepwalking adventure.  So here's the scoop – his wife was the one who found him in our bathroom.  And he had actually gotten so far as to open and close the shower doors but kept walking around like a mime in an invisible cage, praying and pleading for God to help him get out.
So there you have it – the official TST version :)  I was too chicken to try to mess with the original post and risk losing all your link-ups!
~
Joining up with Mama Cass this week for Caption This!  Do you have a photo that is just begging for a great one-liner?  Something that has an great story behind it?  Here's the perfect place to see how creative your pals are!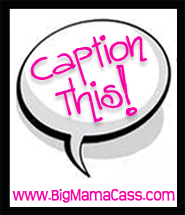 This week brought to you by Itty Bit and his crew.  What on earth is he telling Big Bro and Cutie Left?
Have a great Wednesday y'all!