Still waiting for Julie to come up with some kind of terrible revenge that – though directed at Mr. Daddy – will wreck havoc on my humble blog… so to stay on her good side, I'm joining in with this week's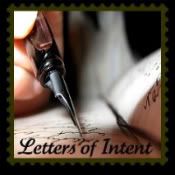 Dear Ah-Ma and Papa,
You are the coolest grandparents ever.
I mean, how many people honked at you guys as you brought over this little gift?
Love,
Your Kid Who Is Still Waiting For Her Ride

~
Dear People I Love,
Would you PLEASE let me know when you're doing the FUNNY shot?
I look ridiculously naive here, LOL.
And just to give you a taste of your own medicine sweetie… here's a shot of you that I know you're just dying to share with our bloggy friends… you showing off your "ear piercings"
(Whoa… can you say "Welcome to the gun show"???  *faint*)
Love,
The Clueless Picture Girl
~
Dear Itty Bit,
You poor kiddo.  You only ever puked once and it was when you were a baby.  So this time around was pretty traumatic when you couldn't figure out what was happening (as you upchucked bananas and chocolate milk all over Papa's truck… 2 hours away from home).
When Daddy heard you were visiting cousins Little Jo and May-May while sick, he figured all of them would come down with it too.  Some kind of payback or something because you only ever get sick after hanging out with them.
Then he realized that you probably ALREADY got sick from hanging out with them last weekend…
Though I'm somehow less worried about the germs and more concerned with the expression on Little Jo's face and the fact that you are beating on her to put you down.
Love,
Your Momma Who Is Now Running A Fever
~
Dear Ju,
Seriously?  You're gonna hound me on Facebook (meaning, PUBLICLY), about not posting pictures of the weekend within 12 hours?
Sure, I got some great shots.  But by the end of that whirlwind, I was plumb tuckered out… kind of like your youngest:
But if you ARE gonna try to guilt me into churning them out Polaroid style… I've got some takes that I know you'll just loooooove:
(You had it coming… don't dare whine now)
What are you getting ready for, Sister Dear?
Oh that…
(look how worried Cousin A looks!)
Ready set go!
Okaaaay.  A little more!
Whaddya mean you're stuck?
(That's right folks… a dead stop at halfway in)
See, I knew you'd love these!
Love,
The Sis Who Thinks You've Learned Your Lesson? :)
~
Sorry folks, I don't have a whole lot of blogging in me right now… It's been a long day with a feverish kiddo.  We finally broke 103 degrees before midnight, but he's been battling to keep it under 100 today.  Please pray that his kidney will handle it without a problem.  Thanks!
~
Now… I've gotta figure out who is gonna be peeved worse… Julie or Ju!