Joining up with KMama for some free therapy for this week!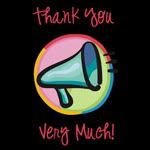 Starting off with my favorite goober:
When Momma says "don't scratch you nose", it's not because she is mean and wants you to suffer.  But because timing is everything.  You need BOTH hands to hang onto the swing, Thank You Very Much.
Oh Lord friends, if I'd had a video camera… we'd be one grand prize closer to raising money to have a bloggy road trip!  He let go at the highest point, and flipped himself completely in the air in a perfect layout… like this, but he didn't quite stick the landing:
(google)
Since your little "dismount" happened after 15 minutes of non-stop hollering, "HIGHER MOMMY, HIGHER!"… Thank You Very Much kiddo for making me look like a classic "doesn't know her child's limits" Mom in front of the crowd of concerned parents.
~
Speaking of limits… since when are you big enough to go on the fair rides by yourself?!?!
Thank You Very Much for not looking back a single time while your Mommy tried to cope with a sudden bout of "where did my baby go?!"
~
And Mom… Thank You Very Much  for being such a non-accomplice when the kiddo was begging for more rides.
"Just one more Mommy, just ONE??"
Do you think it worked?
~
Another $7.50 later… Thank You Very Much…
(don't you love how the big kid is cowering?)
(Aww heck, I grew up with that woman's driving.  I still cower)
(ahem, love you Mom)
~
For cheating and standing on your tiptoes while they measured you for the ferris wheel… Thank You Very Much.
You know I'm terrified of that thing!
~
To Papa – an honest-to-goodness THANK YOU VERY MUCH!  You're as brave as I've always known.
And I know you will have words with me over posting a picture with you in it, but technically it's only half a picture of you…
For the record, Yes I was that kid.  The one who told all her classmates, "My daddy can beat up your daddy."
Ummm… any questions? :)
~
Hope you'll play along for some fun expressions of gratefulness! :)