Julie, the one-and-a-half handed blogging wonder is back!  Joining up for this week's Letters of Intent!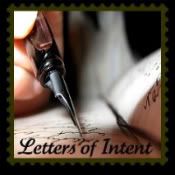 Click on the button to find the linky where all the fun bloggers are hanging out :)
~
Dear Itty Bit,
We were hanging out at the park with some friends and everyone was laughing about your "My mother died when I was just a baby" story… when Ah-Ma stole Mommy's camera and made everyone smile for a few shots.
I didn't think much of it until I realized that a certain little stinker had miraculously overcome his extreme fear of cameras.
What's that?  You can't make it out?  Let me help:
Love,
Your Momma Who Has No Clue Where You Get This Craziness From
~
Dear Bloggy Friends,
Seriously?!?!  43 entries on the giveaway?  If I were a bettin' girl…
(Hop on over and get yourself some entries!  Ends Friday night!)
Love,
The Girl Who Loves CSN
~
And just because I'm mean like that… would y'all please harass Mr. Daddy about turning a year older today?  He was off stirring up some trouble on Gundiva's blog here… so I think he has well earned some bloggy retribution ;)
~
Dear Mr. Daddy,
Happy Birthday!
I do love you.
Even if your princely charms are all about teaching Itty Bit how to beat up his mommy with foam swords lately.
Wishing you a wonderful day, even if you did pick that yucky buffet place for dinner ;)
Love,
The Girl Who Will Gladly Grow Old With You