Joining up with Kmama for some free venting therapy this week!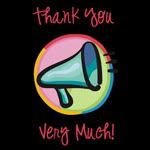 So I'm crashed on the couch at the end of a long day (12:20 am to be exact), and suddenly this shadow comes racing across the floor directly toward me.
Being the logical person that I am, I knew this ping-pong ball sized thing could seriously injure a grown woman and I proceeded to shriek (under my breath… I've learned that panic is not the best way to wake a sleeping babe, Thank You Very Much), jump up to stand on the couch, and start hyperventilating.
What was it?
(warning… graphic photo below)
(google images)
Yes, that was about the exact size of it, too, Thank You Very Much.
Sidenote:  Just because I love y'all and think you can learn from my mistakes: do NOT Google house spider images.  You know these are bad boys when every other picture has a ruler or something that proves these things are monstrous!  Cuz they really and truly are, Thank You Very Much!
So I grab a handful of paper towels and I'm gonna squish.that.sucker, Thank You Very Much.  (Sorry PamD – I know you can handle creepy crawlies, but I could not stomach the thought of this thing crawling on my family while we slept!)
I'm not even kidding you… I about woke my man up when I realized that the monster had run into hiding before I could return with my weapons.  So I grabbed a flashlight, moved a couple hundred pounds of furniture, and spotted that bad boy poised to strike.
I literally stood there with a flashlight for a good 30 seconds, trying to gather courage for placing an appendage anywhere near that foul thing, Thank You Very Much.
And when I finally did, I was afraid to look.  I braved a peek and realized that the sucker had moved and was barely pinned.  I did another super-quiet freak-out and smooshed, smooshed, smooshed that thing, Thank You Very Much.
And after the battle, I carried the carnage to the kitchen sink.  The beast was folded up and still.  And then I did the stupidest thing I've done in awhile, Thank You Very Much.
Those things don't die!
Oh my Lord… when I came back 20 minutes later, hoping for a picture to prove my bravery… that THING was stretched out and very much alive!
Smash smash, squish squish, smoosh, smoosh, silent scream
If you think I was going to let this prehistoric beast live, look up close:
Let's just say that if he comes back to life now, he won't be able to get around very well… Thank You Very Much!
~
In other equally-scary news… what on earth?  I advertise an upcoming giveaway and I lose two followers?  What'd I say?  I'm sorry!  Come back please!  I miss you, Thank You Very Much!
~
Okay… now I need to go scrub my eyeballs… I have spiders on my blogpage!!!