A relief to see Friday finally here… along with Letters of Intent from King Julien!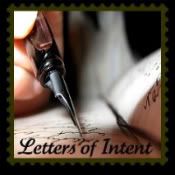 To my warm blogging friends -
Seriously, I cannot take much more of those "it's sooooo hot, where is fall?" posts.
It poured BUCKETS here today guys.  BUCKETS.
So y'all (*cough* Heather) should just be happy you get to enjoy shorts weather for a wee bit longer, right??? :)
Signed,
Drowning
~
Dear Itty Bit -
I know you're in this say anything random phase.
And Daddy thought it was hilarious when he gave you a piece of toast and you promptly dug in and declared,
"Mmmm!  Tastes like chicken!"
I mean, your redneck daddy was nearly in tears by the time he recounted it to me.
But lets try to be more careful with some of our choices, k?  You know why.

Love,
The Momma Who Loves Your Silliness
~
Dear Lady at Target -
Lord Knows I canot shop at Target without it somehow being blogworthy… but you could have just laughed and gone on your merry way.
After waiting a long, long, LoOoNg while for you to scoot yourself and your cart out from the middle of the aisle (Thank You Itty Bit for your use of manners by brightly calling, "EXCUUUUUUSE MEEEEEE"), I went directly to my favorite:
Yes folks, that's a Tahitian Vanilla candle.  But you know you can't enter the candle aisle with a 4-year old (or a 40-year old for that matter), and not stop and smell a couple or twenty, right?
When I obligingly stuck a scented goodie under Itty Bit's nose, that say anything random mood struck again…
"Mommy, that smells like CHEEEEEEESE!"
you could have just chuckled and walked away.
But Itty Bit suddenly startled and looked at you.  You were doubled over gasping.
And when you caught your breath, you had the consummate wisdom to loudly guffaw and announce to anyone within a fourteen aisle radius:
"OH MY GAAAAWD!  Did he just say that smells like S#&%  ?!?!?!  HA ha Ha hA!!!"
My poor kid looked at you like you were out of your mind.
I looked at you like you were out of your mind.
As nicely as I could muster, I replied,
"No.  Because he didn't know that word."
And somehow you thought it was even funnier that you'd just taught him.
Signed,
We Don't Talk Like That At Our House
~
Join Julie for more letters – hit up her button above!