Joining up with King Julien for this week's Letters of Intent!  Click below for some fabulous links and add yours!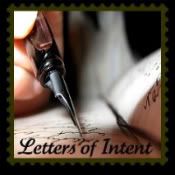 *quick disclaimer*  Sucky lens on my camera = sucky pictures… sorry.  Pics were taken over three different days.
Dear Itty Bit ~
You were all excited to play your first organized sport.  I mean, considering that relocating huge piles of dirt with a collection of tractor toys isn't considered a sport… I thought we were doing well  just to have you interested.
I upped the coolness factor with these:
(Google)
(The kid *loved* his "pokey shoes" and wanted to wear them ev-er-y-where)
So I bring you to your first practice and you act like you're the one with the hearing impairment:
Coach:  Everybody with your arms out!
Coach:  Okay, everybody squat down!
Mommy:  Honey, what are you doing?  Dancing?  Oh.
.
Mommy:  Itty Bit, LET HIM GO!
The next practice was a wee bit better.
Starting with you halting the entire field to inform the coach of a nearby train.
Mommy:  Oh I see, you'll play TAG with the coach…
Mommy: Don't you dare Boogie… don't you dare.
But I have to admit that I very unkindly (and rather loudly) laughed when Daddy tried to teach you how to drop kick it and you missed the ball and hit his… well, let's just say you put him on the D.L.
(I'm just gonna call that suh-weet revenge for the soccer ball in the face in Krogers).
And tonight?  Well you started off the practice terrorizing the coach again.
Though it looked like everyone was doing a great job settling down and listening…
Err…
I cannot figure out why you think this game is "run and fall down"?
(For the record, he really does fall down every time he sees another kid drop.  He's highly empathetic)
Ohmygosh Itty Bit – gooooooooo!!!!
Whoo-hoo!  That's my boy!
Umm… that's okay honey.  We'll just say that girl was a spectator, k?  It'll be our secret.
And of course… the team huddle would just not be right without you picking your nose.  *sigh*
Honey… just kick the ball.  Listen to the coach.  And keep your fingers out of your nose.
We're gonna have a great season.
Love,
Mommy