Joining up with King Julien for this week's Letters Of Intent!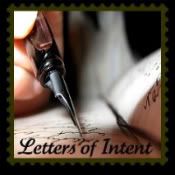 To Google Reader -
What on earth did I ever do to you?!?!
I thought it was awful quiet in blogland for a few weeks, but witholding new posts for a MONTH is a bit extreme, no?  I was already trying dutifully to catch up on commenting on all the lovely blogs, when every single time I open the reader, more posts from August pop up?!?!
Which leads me to my next letter:
Dear Bloggers,
I'm so sorry for missing out on all the fabulous posts these past few weeks.  Blame the Google Reader.  UGH!
Love,
Your Desperately Trying To Catch Up Friend
~
Dear Itty Bit -
We REALLY need to get the hang of this soccer thing.
I'm somewhat cringing at the thought of the upcoming game… knowing that you still believe the competition is all about chasing someone, then falling down when they do.
As for practice?  Let's check out a few moments from this week:
Stifling a yawn was a nice touch:
(Wanna talk about that nap strike again?)
Umm yeah… this is only slightly inappropriate:
How many times am I gonna have to ask you to let.him.go?!?
Yes dear, you are very talented.  Please try the Cirque du Soleil demonstration after practice, k?
And your big brother finally intervened to try to help… and you were out there making clowns out of the balls…
(I am not admitting that I giggled hysterically with the rest of the moms)
But would you please, please, please start following directions?
And team pictures were another point of pride…
Love,
The Mom Who Knows Her Kid is Gonna Be A Crowd Favorite
~
And a happy Friday to y'all!