It's time… time to let the blog universe  hear your fetching notes of gratitude, your heartbreaking tales of woe, your pleas for common sense.
Yep, time for a little Letters of Intent from King Julien – clicketh on the button for more!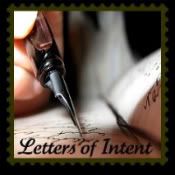 Dear UPS -
I hope you read this, I really do.
Cuz at least a few other people are, and they'll get a peek at some insane policies that might make them think twice about using you next time they have a package to ship.
See, you delivered a package to someone's house.  And the person it was addressed to no longer lived there.
So when the current tenants were nice enough to give you a call and let you know… well, it set off a whole "what the heck?!?"  flurry of communications between a bunch of people…  And here we are… with another bunch of people… learning all about you.  You are so lucky I haven't Facebooked this (yet).
Raw Deal #1 – Sure you gave the old tenants online confirmation that their package had been received (albeit in the the wrong town).  But you didn't tell them you left it out in the rain.
Raw Deal #2 – It was a gift for the their preemie baby.
Raw Deal #3 – The current tenants gave you a call and asked you to come pick it up, since no one lived there by that name.  You told them "We already did our job".
United Postal Service CEO, allow me to grasp you firmly by the shoulders, shake you soundly, and present you with my best impression of the torture I receive for 16 hours daily:  my son saying,
"but why?  but WHY?  BUT WHY?!?!"
Seriously?!?!  So what are these people supposed to do with this soggy torn up box that doesn't belong to them?  You made it even better:
Raw Deal #4:  You told them you would charge them to pick it up.
Oh no you dinnt.  Surely you dinnt.
Tell me why they should pay for a total stranger's parcel to be delivered?
Royally unfair.  Royally wrong.  And I suspect royally illegal.
Tell me how to fix this.
Awaiting your comment below, Mr. CEO.
Thanks,
Scared Of Brown
p.s.  Don't take blog opinions lightly… Ben & Jerry's manned up after Letters of Intent got involved.  Just sayin'.