Time for our weekly free therapy courtesy of Kmama and her Thank You Very Much carnival!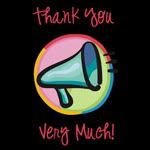 A big Thank You Very Much to my perfectly behaved (and highly motivated) mare who parked me under the tree so I could stand on her back and get her some of these:
It would have been funny (since I'd dared to say the word APPLE outloud and you ran for the tree), if you hadn't actually come an eyelid away from putting my eye out, Thank You Very Much.  Seriously, that would just be cruel for a deaf chick ;)
~
And a hearty Thank You Very Much to this little booger who has maintained two speeds lately:
Overdrive…
And Parked:
Oh wait… perhaps it should be caffeinated and decaf?
(Sorry Mimi, I had to… after you called me out on the Starbucks last post :)
The concurrent nap strike at home is so not cool buddy, Thank You Very Much.
~
And to the manufacturers of this super duper amazing 25% less saturated fat oil…
I think I've figured out where that 25% comes from… Thank You Very Much!
~
And last but not least…
You know those Macys advertisements that include eleventy perfume swatches that fall out when you get your mail?
Well, my poor husband wound up demonstrating that it did indeed smell as good on him as it did on the paper, Thank You Very Much.  Why yes, this did entail him holding still and mumbling various gripes under his breath while I rubbed the paper all over his neck…
But can you blame me???
The man has been out elk hunting, and if you remember this:
(please do not read the link unless you want to embarrass me all over again), you may recall that he hunts with a certain "essence".
Oh yes… he is dousing himself with elk pee again… Thank You Very Much!
Y'all… can you READ what that bottle says?  Why on earth you would want to be s#xually attractive to a teed off elk bull is beyond me.
I'm breaking out the Gio paper sample again, Thank You Very Much!
And to revisit the Mr. Volcyum adventure that happened last year… catch it here.
Thank You Very Much!