Thank you for all the sweet comments on the last post.  I always knew you were a bunch of caring friends, but the comments reaffirmed that.  That last we knew of the injured boy:
He regained consciousness and was finally able to say his name ("my name is Kyle, I think"), but could remember nothing of the fall.  He had obviously hit his head in two places and when Mr. Daddy went to help secure him on the backboard, he complained of chest pain.  They were unable to locate his parents, but in true small-town form, people began calling:
Hey, that's Ricky's boy!
Ricky from the valley?
No – Ricky, Tommy's brother.  You know, the boys who played on the state team that year.
Oh, the '90 season – the ones who look like twins.
No, those are the Wilson boys.  The '92 season… they played with Charlie's kids.
Charlie from the mill?
Yeah.
Hey, you mean the one who lives over by the creek?  The last house before the bend where Johnny shot that 6x6 bull last year?
Yeah!
Ohhhh!  This is Big Joe's grandson – I went to school with Big Joe's sister.  She was a year behind me.  Red hair?
Anybody got Big Joe's number?
…and on and on.
And in a twist that makes me feel comfortable to know that these people care: the fire department responders were the same ones who showed up to the scene of my accident.  Yeah, the same dudes who asked if I knew my name.  If I knew where I was.  If I knew that man who was standing outside the ambulance.
Yes, he's my husband.
We're sorry ma'am (loud guffaws).
Rach, don't mind them, I went to high school with 'em.
Nothing like a small town, I tell ya.
Thanks for your prayers guys!
~
Now onto our weekly free therapy session with KMama!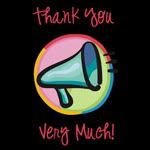 I present for your drooling pleasure:
To the high school kid who works at the Kroger's bakery:
When I asked if you had anymore Tuxedo Cake, Thank You Very Much for telling me you did.
Not a problem, except that you then told me you didn't know how to slice it and couldn't sell it to me.
HUH?
I did not admit to you, but am now admitting to the entire internet (Thank You Very Much), that I drove out of my way from Redneckville to get me some of this insane yumminess!
See, I'd spent Thursday through Sunday within the confines of my home due to a lovely head cold that Itty Bit decided to be generous with, Thank You Very Much.
When I broke quarantine to get some medicine at the store, I drove a half hour to your place of employment because I figured Tuxedo Cake would fix what ails me, Thank You Very Much.
When you pointed me toward some Tiramisu Cake, I realized you just didn't get it.
For sending me home without that particular brand of medicine, Thank You Very Much.
~
To Self:  Thank You Very Much for not making a scene at the store and resigning yourself to the massive slice of Tiramisu cake.
To Self:  The kid can open the refrigerator door.
To Itty Bit:  *sobbing hysterically*
I guess I didn't really want it anyway.  Thank You Very Much.
(p.s. don't give me that "who me?!?" look – the Lightning McQueen spoon was a dead giveaway)
Go click on the Thank You Very Much button for more gratefulness this week! :)