Fridays are a favorite - heading straight into the weekend with King Julien's Letters of Intent!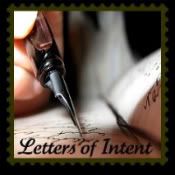 ~
Dear Bloggy Friends,
I'm a little afraid to post.  Cuz goshdarnit if we haven't lost a follower every couple of posts.  But seriously, three in two days?  I'm not kidding when I said I almost cried.
If I promise a great giveaway coming right up, will y'all stick around for a wee bit longer?
Love,
The Chick Who Is Afraid of that Follower Widget
~
Dear Cindy Lou Hoo -
I love that you are a girl who knows what she wants.
And how to get it.
Even if your mom hasn't quite figured out that the best part of strawberry lemonade… is that last strawberry.
\
Way to go kiddo.  You make me laugh that really unladylike one that ends in a snort.
Thanks.
Love,
Your Rachel Who Can't Get Enough Of You
p.s.  What???  Doesn't everyone bring their camera out to dinner?