This week's Letters of Intent is all about you!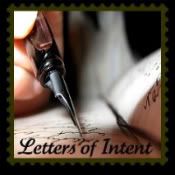 Dear  Bloggy Friends ~
We've been friends for awhile, yeah?  And friends are good for lots of things, right?  Like being really excited when you win stuff?
Like this from Leiah?
Or this from Aunt Crazy?
You guys are always up for some good fashion advice, right?
Because the bombshell is that Mr. Daddy won these ;)
I'm not even gonna tell you how many peeved looks he shot me as I howled with laughter when his name was announced as the winner of the Dress Barn giftcard.  I'm sorry dear.  But it is slightly hilarious.  (And I'm not even gonna pretend I'm sorry for the screaming laughter when the PINK giftcard arrived in a flowery envelope).
So help a guy out – we have a few options (thanks to King Julien and her editing skilz):
For those indian summer days – maybe with a nice matching sweater?
I personally like this little blue number – so classy and a little bit retro!
But really… this last one takes the cake (darn… someone said cake again!)
I happen to think he would look rather fetching in a bright color.  Perhaps with some terrific Dallas shoulder pads and something to show off that girlish figure?  What do you guys think?  Perfect for the work Christmas party?
Oh don't worry – I've got y'all covered.  I've put a voting thingie up at the top right corner of the blog… please go check it out so we can figure out where his awesome gift card is best spent!
Thanks!  I knew I could count on you guys!
Love,
The Wife Who Is Glad Her Husband is Asleep Right Now
~
Join King Julien for more letters – just click on the button at the top!  (Ahem, after you vote, of course :)