Linking up with King Julien for this week's Letters of Intent!  This week is an actual (long) record of letters that were exchanged…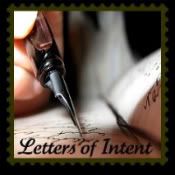 This week… I just couldn't help it.  The politics are getting to me.  And when the harassment came from an unlikely source, I admit that I actually did sit down and write a letter.  What follows is why I ultimately decided that THIS was the best course of action:
Dear Costco ~
I thought we were friends?  I mean, you gave me an amazing deal on my camera and kept me posted on each stop in transit to my door.  See, that's what I provided my email address for.  I did NOT provide it for this:
Dear Valued Costco Member:
You may be asking why Costco is engaged in what appears to be a political issue for the first time in our 27 years doing business here. We view this as an issue that transcends politics. One of our guiding principles is to stand up for the rights of our members and consumers in general. We have been fighting for reform of our outmoded liquor laws for many years. Today you have the opportunity to rid the state of inefficiency and waste, and Costco can bring you the choice and value you deserve. Liquor privatization works in 32 other states. Why not here?
Are you kidding me?  You're actually telling me how to vote?  And you're claiming that it's "not political"?  Well sure, you're right.
It's not about politics to you.  It's about MONEY.
I vote yes, you get to sell more stuff.
Let me make this easy:  if it requires a vote, it's "political".  You're using my private contact information, not for "occasional specials available to our members", but to convince me that it's in my best interest to vote how you think I should.
Now, I was nice… I wrote you a polite email stating that whether I agreed or disagreed with you was irrelevant – the fact that you used my email to send something like this was inappropriate.
See?
Good Afternoon -
I just received an email about Costco's stance on Washington State's Initiative 1100.
Regardless of whether I agree or disagree with the position, I'm more than a little surprised by the business decision to directly email consumers who have provided their private email contact information solely for the purpose of their online purchases and to receive occasional advertising.
I sincerely doubt that any person signing up for those reasons ever imagined that they'd be receiving political lobbying information.
I believe it's a rather inappropriate use of our confidential email contact information to advertise your political stance.  Again, it really doesn't matter if I agree with you, but I'm sure that there are other ways for you to advertise your position and support the initiative without resorting to private information from your consumers.
I'm mindful of the position you expressed in the email, but feel a bit like my information was used for inappropriate purposes.
Thanks for understanding.
Rachel
And instead of at least apologizing to your customer, instead – you defended yourself and added the names of your buddies (like I'm going to be afraid of going out to eat if I disagree).  I added a few comments below:
Dear Rachel,

Thank you for your e-mail to Costco Wholesale. We understand our members have different perspectives and appreciate the time you've taken to share your viewpoint. Please be assured we have not changed from our basic rule to not engage in politics. (And we aren't even going to apologize for emailing you about POLITICS).
This issue is so closely related to our business we felt compelled to have our voice heard. (You're right – your BUSINESS = MONEY)  We understand some of our members will disagree with our decision to make a first time exception in Washington State. We did not come to this decision lightly. I-1100 is actively supported by the Association of Washington Businesses, the Washington Restaurant Association, the Northwest Grocery Association, the Washington Retail Association, and has been endorsed by most major newspapers across the state. (Therefore you are a dummy if you don't vote our way)  We understand that we risk the disapproval of some of our members and want to make sure you understand the reasons for our decision. We value your business and thank you for your patronage.   (Still not gonna apologize Nyah Nyah)
Thank you,

Thomas
Costco Wholesale Corporation
At that point, I was more than a little annoyed about it… I mean, surely Costco can afford to just put a billboard up, right?  Here's my second attempt to explain "Dudes… leave my email alone"
Sir,
Thank you for the reply.
To restate - I do not question your position on the Initiative, but rather the choice to use your membership private contact information to advertise this.  Surely you can include a link to your position on the Costco.com website, or advertise it on television with the number of other supporters.
I consider myself to be voter who tries hard to be informed.  It simply left a bad taste in my mouth that Costco resorted to using my email address basically to advertise the position without cost.  I am interested in the position of businesses in this Initiative... I just don't wish to be contacted about it through the email address that I provided to do my purchasing through.
Respectfully, I guard my personal information carefully and am certain that I am likely not the only one who was bothered by this.
I hope you can understand why it seemed rather low-brow to have received the information personally this way... I would much rather have seen a link on your website to understand the factors in your support of the initiative.  I hope Costco will consider the potential unease at customers at having received the unsolicited political information via their personal email (I realize Costco is not calling it "political", but truthfully, if it is an "Initiative" and requires voting, it is in the political realm).
Thank you for allowing the input.
Rachel
At last, a reply with an apology.  Then several paragraphs of explaining why they weren't wrong:
Dear Rachel,
Thank you for taking the time to share your thoughts with us. We apologize for inconvenience or disappointment that you may have experienced.
Involvement in a political issue is highly unusual for us. Although I-1100 is in the political arena, it is very closely related to our business and the interests of our members. It was critical, therefore, to have our voice heard, and in connection with that we wanted to make sure our members understood the reasons for our involvement.
Since 1983, when we started our business in Washington with the first Costco near downtown Seattle, we have made it one of our key principles to stand up for consumers. Our mere presence in a market usually improves competition for consumers regardless of where they shop because of our reputation for delivering value.
We did not come to our vocal support of liquor privatization lightly.  The vast majority of our members around the country are able to buy spirits from us. In addition, I-1100 is actively supported by the Association of Washington Businesses, by the Washington Restaurant Association, by the Northwest Grocery Association, the Washington Retail Association, and has been endorsed by nearly all major newspapers across the state.
We are concerned about the protection of our member's personal information, as well as the way in which it is used. We tell our members that one of the ways in which we may use their personal information is to help serve them better and to tell them about opportunities of interest and our most recent communication is part of that effort. While this is the first time that we have reached out to our Washington members in this manner, you can be assured that this will not become a normal occurrence.
Should you wish to opt out from receiving emails from us in the future, please click unsubscribe.
Sincerely,
Karen Lee, General Manager 
Costco.com Contact Center
Costco Wholesale Corporation
~
Got any letters to write?  Click the button at the top and link up too! :)