King Julien has her hands full with carnivals this week!  Join up as she hosts Thank You Very Much for Kmama!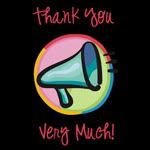 ~
Dear Itty Bit ~
There are lots of people who jog around the lake.
And I can appreciate that you were looking rather dapper in your new eBay duds (what?  New with tags and free shipping?  What's not to love? :)
(Sorry for the gratuitous and completely mismatched photo)
But seriously?  As soon as two rather cute looking chicks came up behind us, did you really have to turn and oh so subtly do this?
Thank You Very Much.
They giggled and giggled as they jogged past us.
And you totally blushed and watched them go.
You are waaay too young for this flirting business, Thank You Very Much.
Maybe in another 27 years or so…
Love,
Your Momma Who Was Dying Laughing Behind That Lens
~
Dear Krogers ~
You're forgiven.
And I'm not showing you the other side of that picture, because about half of it is ummm… missing?
For staffing your bakery with someone who knows how to use the special slicing machine, Thank You Very Much!
Love,
The Girl With A Little Extra Jiggle In Her Butt Step
~

And friends… I was only half-kidding about how serious I am about this cake.  If anyone can find me a recipe for tuxedo cake that does not require 72 ingredients and an instruction list longer than my high school physics book… I will be your friend forever :)