It's free therapy time, courtesy of Kmama and the Daily Dribbles!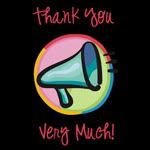 It's been one of those weeks… the kind where a million things are on your mind and things turn into a comedy of errors.
See, my mind was busy – hitting the grocery store in the late evening and trying to rush.  A huge list with lots of bake sale ingredients were cluttering my brain.
A big Thank You Very Much to whomever needed ONE EGG.
Cuz, you know, I DID.
And I was in such a rush that I didn't check the crate and came home with well, the opposite of a baker's dozen.
Thank You Very Much to whichever criminal walked out of the store with a SINGLE EGG.  Would it be wicked of me to wonder if it somehow didn't make it out in one piece?
~
That being distracted thing sure didn't help after soccer practice either. After ordering Itty Bit's bubblegum ice cream cone and seeing how quickly it was already melting… I asked the teenaged girl behind the counter for a bowl to flip it into.  And when she handed the cone and the bowl to me, I was busy juggling those and a very excited 4-year-old.
So busy that I wandered to a table to watch Itty Bit merrily polish off the mega-sugar creation.
And 15 minutes later, it was not me who gasped and whispered to Mr. Daddy in shock,
"Ohmygosh, I totally forgot to pay for that!"
GoodLord girl, you are losing your mind.
Thanks Mr. Daddy - for smugly refusing to help a girl out and go rectify the situation, Thank You Very Much.
I was M.O.R.T.I.F.I.E.D.
I walked up to the register and just gave her the entire remorseful story of how unbelievably scatterbrained my week has been.  She was truly sweet and totally forgave me… but I still feel like a big cad, Thank You Very Much.
Please tell me I'm not the only one?  Cuz with the holidays coming up,  you know it's gonna get crazier!