Linking up with Kmama this week for some free therapy!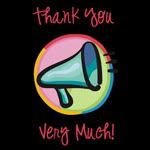 This one is for Itty Bit -
When you beg for carrot cake at the store (you are your father's son after all), I fully expect that you will be appropriately appreciative.
And not just lick the frosting off and put it back in the fridge, Thank You Very Much!
~
Now… it was wildly unfair that you wasted your cake of choice and went after mine.  I mean, you know how I am about my cake, right?  It's like mommy's little happy place, thank you very much.
~
Waitaminute… I never blogged this picture.  I knew it… it's not that you don't like carrot cake… it's that you LOOOOOOOOOOOVE chocolate. 
But still – leave Momma's cake alone, thank you very much.
~
If it could just stay this gorgeous brilliant early autumn, I would be absolutely grateful.  No need to bring on the rain, really.  I mean, we can handle a little more of this, thank you very much.
~
And is anybody else totally ready for the Christmas season?
I mean – I can't even hardly wait, thank you very much!  So if you need a headstart on your gift list… don't forget to head over to our $45 CSN Stores giveaway!