It's my first time linking up with the Oswald Cuties for Monday Mugs!
It's a great way to have some fun with photos that may not be contest-worthy, but tell a story anyway!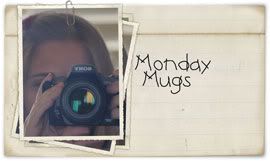 We celebrated May-May's birthday this summer with a family party.  Don't you love it when kids get the hang of wrapping paper?
(Can't you just hear her giggling here?)
(Gratuitous picture of her sweetness… my sister was due with her four days after Itty Bit's due date!)
Well, she unwrapped her gift, loved it, then turned her attention back to the wrapping paper.
Waitaminute.  I don't see any wrapping paper.
So what's she smiling about?
Ahhhhhhhh!
Wrapping paper fight!!!
I miss her to pieces and can't wait to get hugged by a curly-headed wrapping paper monster this week!
~
And don't forget – remember any outrageous and true stories that you've posted about?  Come back tomorrow and link up for True Story Tuesday!  We could all use some comment love, right?  Well, maybe not some ANONYMOUS comment love, right ' target=_blank>Jules?  hee hee