Squeaking in under the wire to join in with Oswald Cuties for a fun week of photos.  (Hey, it's Monday for a few more hours before I catch some winks… that counts for something, right?)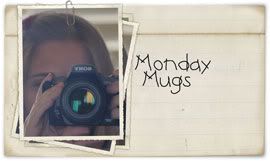 This week's theme is Self-Portrait.  Yech.  Truthfully – I'd much rather be at the business end of a lens!  Those of you who have kept up with Itty Bit for awhile know that he is quite the little wiggleworm when it comes to photos nowadays.  Which is why I cherish this one sitting still shot.
I may or may not have bribed him by promising to open the curtains for him to watch the street sweeper that was coming ;)
And I apologize for borrowing from the previous photo post, but here is the other typical Rachel self-portrait:
Anyone else remember the end result of inadvertently being between two bickering horses at feed time?
Thanks Oz, for letting us have a fun way to start off the week!  Are you brave enough to link up with your own shots? :)