Dear Readers,
+
You think you know what's coming, don't you?
Love,
You are wrong… oh so wrong
~
Dear Itty Bit,
I was putting in some last minute Mom-of-the-Year bonus points, sitting crosslegged on the kitchen floor making a felt stocking with you tonight.
We were having a jolly time.
Until I felt a whoosh by the side of my face.
And saw you staring at me with curious/terrified/triumphant expression.
As the pieces slowly began to fit together, your expression turned to concern mixed with a hopeful, "I'm cute, right?"
HOLY COW KID.
You went all ninja and totally snipped a lock of my hair off before I realized what had happened.
I stared in shock at you for a good eleventy seconds (giving plenty of time for your life to pass in front of your eyes), and STILL couldn't help stammering.  Each attempt a slightly higher and more panicked pitch.
Did you…?
Did you…?
Did you just CUT…???
DID YOU JUST CUT MOMMY'S HAIR??????
I don't think you were even breathing by then.  I think you were slowly realizing that you'd just broken a BIG BIG BIG rule.
Like bigger than the don't say "shoot' and don't say "butt" rule.
"Mommy, shoot is a bad word.  Mommy, butt is a bad word.  Mommy, what about shoot the butt?"
(No lie, that happened today; and the only reason it's a rule is because it's so darn funny it's dangerous when he says it at the dinner table).
So as I sat staring at you in unshakeable shock, you answered me.
YES.
Ohmygosh Boogie, WHYYYYYYY would you even do that?
And then… you broke out that ridiculous cute grin and I lost it.
I hope that you will remember our talk.  Because even if they're going gray and they aren't real cooperative… I'm kind of fond of those disobedient hairs.  Kind like you're fond of Christmas presents…
Love,
The Momma Who is Afraid to Go to Sleep Tonight
~
Got letters?  King Julien's got a carnival for you!  Join along!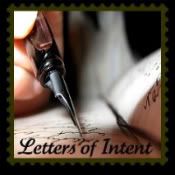 Also linking up with Kmama & Emmy for Proud Mommy Moments!