In surgery.
Right now.
That mile between anesthesia and the waiting room is where I nearly lost it.
(Okay, so maybe I did... but there wasn't anyone around).
Crazy snow means no one else in the waiting room.
Blogger says this is my 973rd post.
And I never dreamed that those posts would somehow connect me to YOUR posts... and leave me far from alone in this waiting room.
My phone is going crazy... notifications of comments and messages.
Hope
Prayer
Support
Humor
You guys really rock.
Thank you - so much.
Please forgive me - don't have all the links for everyone - but Julie and Brandi put this together - and it has been rockin' out on Facebook and blogs... it makes me smile... every.time.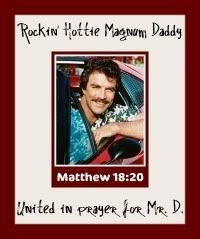 Feel free to grab it - it would make the Mister smile to see it once he gets out of surgery :)