So the man is heading for his "peeing neon" radioactive treatment soon.
And that isn't even the hard part.
The worst part is being quarantined from his little buddy.
His mini-me who wants to be just like him when he grows up.
Apparently being exposed to radioactive hugs doesn't give kindergarteners Spidey powers or anything.  Who knew?
To add insult to injury?  The Limited Iodine Diet (otherwise known as the "paper and grass diet") to prep for treatment.
GAH.
Y'all already know how he feels about veggie burgers…
You guys know I can't even do brownies right.  And pretty much every single recipe in this special book references another recipe.  As in everything has to be made from scratch.
You know… like "SPAGHETTI RECIPE" on page 12.
Which refers to the "HOMEMADE WHEAT PASTA" recipe on page 36.
And the " HOMEMADE SPAGHETTI SAUCE" recipe on page 89.
And the "HOMEMADE FRENCH BREAD" recipe on page 117.
And the "HOMEMADE ITALIAN SEASONING" recipe on page 146.
(and forget cheese because they haven't figured out how to fake that yet)
I wish I were kidding.
Do you know I'd have to make my own ketchup?  My own mayonnaise?  My own seasonings?  My own bread?  My own marinades?
All without anything that has ever been in a can.
I can't even use anything remotely dairy… take a wild guess why?  Because they use IODINE to clean cows teats.
I said "teats'" on my blog.  Welcome all you agricultural folks who were searching for something else and wound up on a blog yelling at you for cleaning your cows' udders with something that somehow winds up in milk, cheese, yogurt, coffee creamer, cottage cheese, ice cream, and ohmygosh I'm going to go eat some right now.
Help me.
I've been researching like mad online.  But frankly… getting a little overwhelmed.  I think we'll be munching on veggies A LOT – assuming I can figure out homemade ranch dressing without dairy.  Good luck me.
Any of you been on a Limited Iodine Diet?  I figure you guys are a better reference than Google when it comes to things that won't make me cry into my homemade wheat pasta flop.
Help a girl out?
Otherwise I'm guessing we'll be seeing a lot of this
and this at the dinner table…
And as always… we covet and appreciate your prayers!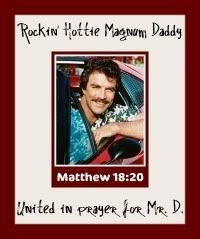 (and before anyone calls the modesty police on me for saying "teats" and having pictures of butts on my blog… click on the picture above for my get-out-of-jail-free card :)